Hot Times in Old Towns
For the holidays this year I received a copy of Monica Hesse's American Fire: Love, Arson, and Life in a Vanishing Land. I burned through this book. If you are interested in criminal justice issues, and reading this blog I assume you are, I cannot recommend it highly enough.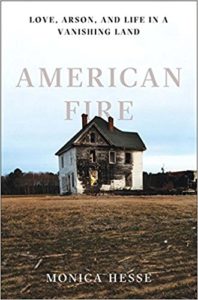 Despite my work as a criminal defense attorney, I am not a big fan of the true-crime genre. For one there's something to be said about not taking your work home with you. Mostly though, for whatever reason, an author rarely grabs me. That wasn't the case here. I have a feeling most of the books of the genre can't hold a candle to this one and I think that's because the author focused on the big picture.
You see, serious crime is usually not a result of a single event. It can come from a powder-keg of factors: economics, opportunity, luck, addiction, mental health issues, and even romance. This book covers them all in explaining what led to a boyfriend and girlfriend committing 67 separate arsons.
The couple, the book quickly reveals, was Charlie Smith and Tonya Bundick. Both were longterm residents of Accomack County, on Maryland's economically depressed Eastern Shore, where all the fires took place. The "why" of their choice to burn down the county they lived in though, and the law enforcement char acters who try to solve it, take the full book to explore.
Briefly, Charlie and Tonya met at a bar in rural Accomack (not, as some people claim, on Tinder). Charlie was a ne'er-do-well with some past addiction and mental health issues who felt Tonya was out of his league. Tonya saw something in Charlie but his perceived difference in status created problems in their relationship.
Tonya, meanwhile, kept her cards close to her chest. She had two children from a previous relationship and a failing business. Prior to the fires her son (it was never "our son") was in a particularly bad spot. Past insults and current stresses led to her need to lash out, and/or assert some control over her life. Charlie, dedicated to proving himself worthy of her love, started lighting fires at her alleged behest. Their version of events do diverge but ultimately both were caught and charged.  After the plea bargaining both were sentenced to over 15 years in prison. 
While Charlie and Tonya's were setting fires to reclaim some spark, state and federal law enforcement were hot on the trail of the serial arsonist(s). The book goes into considerable length to discuss the training and tactics of the investigators tasked to stop the crimes that had the county in the grip of fear and paranoia.
This all happened in 2012, so social media was also a factor. The book provided some details on how the community, victimized repeatedly by the arsons, discussed their plight and organized responses to the fires. Needless to say, local businesswoman Tonya Bundick was on many of these social media posts, which is fascinating to read after her role came to light.
Ultimately if reading about how a depressed region handles serial arsons' and the people living with, dealing with, and committing the arsons interest you, this book is worth a read. 
If you or someone you know has been charged with a serious crime or not-so-serious one; or just wants to ash a question, feel free to give me a call. 
Happy New Year!