Savings! Fantastic Opportunity!
Ever since I started my practice, people have been asking for a deal they see business do all the time. They suggested a way to add a little extra who choose my practice to represent their needs.
I took these suggestions seriously. While I do have a business to run, I do want to provide value to my clients as well. And considering how often this request comes across my desk, I knew this was something people cared about very much.
So I came up with something. My accountant and I looked at the books. We figured it was a great deal for the client, but would it bankrupt us? Was there a way to reward loyal clients, that also fit within the financial limitations of running a criminal defense practice?
Well after a lot of number crunching we figured out a solution. I'm happy to report on this, the first day of the fourth month of the year, I am able to offer my clients what they've been clamoring for: The Law Office of Noah Weil Frequent Offender Card!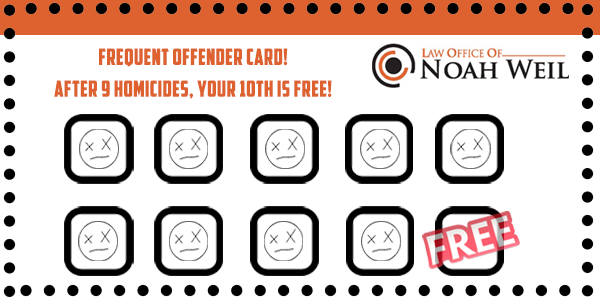 Let's say, somehow, a person isn't alive anymore. And you are, for whatever reason, accused of being involved in the process of that person not being alive anymore. And because of the accusation of your involvement in someone not being alive, you decide you need a lawyer. And your favorite lawyer is running a promo right now. Great!
Just make an appointment for an office visit. Print out and bring the Frequent Offender Card with you. If we end up working together, you receive a punch on the card. Hopefully the unfortunate person fell on his own knife collection, or whatever, and you are free to return to normal life.
Then let's say another person also finds themselves devoid of corporeal animation and you, again for whatever reason, are somehow associated with that person's snuffed wick. Same as before! Make an appointment and bring that card with you. If we work together you will receive another punch on the card and together we will once again confront these unwelcome accusations.
If this continues to happen, the tenth time your representation is FREE!
(Please note: office consultations 5-10 will be conducted via Skype).
It couldn't be simpler! 
FAQ
Q: Are you the best lawyer ever?
A: Ethics rules prevent me from comparing or ranking myself against my colleagues in the bar. Every person who practices law has gone through years of education and passed a rigorous exam in order to receive their license. I would simply ask you to compare my practice to all the other practices who are offering this promotion and draw your own conclusions.
Q: This is an amazing deal! Wouldn't I be losing money by not receiving this free representation?
A: I can't speak to your individual financial circumstances but that makes sense to me.
Q: Does this deal work with different cases or just individual people? For example, what if someone was accused of committing what the media has, unfairly in my opinion, labelled a "spree?" Would this promo apply there? Asking for a friend.
A: You betcha!
Q: This is a really great deal!
A: That's not a question but thank you!
Q: Why are you offering this today?
A: Spring is a time of renewal. I felt the first day of April was the right time to renew my commitment to offering my clients effective, value-driven representation. I appreciate your support!